All the agencies who have been creating their travel brochures know how important are these small pamphlets for their business. Each of these small pamphlets contains all the details concerning a destination, hotel, service, or tour with the intention of their business promotion.
It can be a very effective marketing tool as many people often leaf through a regular travel brochure, sitting in a travel agency or an airport hall, and use these pamphlets when planning vacations or a holiday.
As a travel brochure is an important gear of business mechanism, it's essential to be sure to include all the necessary information in it and arrange it properly.
What to Include in a Travel Brochure?
1. A qualitative cover
A cover is the first thing that people see, and it needs to attract prospective customers' attention at once. For achieving this goal, a cover should immediately answer three essential questions:
1 Who is advertising?
2 Where are you located?
3 And – What are you selling?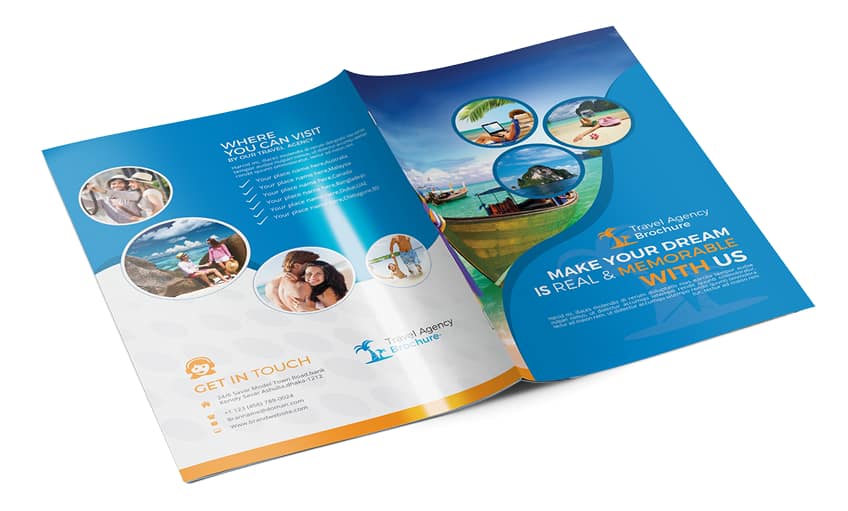 A cover needs to look simple and visually compelling.
2. Benefit Description
You need to tell your customers why they should choose exactly the product you're offering. Use a personal approach and create a specific message to the audience. This way, you will assure them that your offer is the best choice for them and let them know what exactly differentiates you from the competition.
3. Product Explanation
It's important to describe all the facilities and include attractive pictures, information about special services, promotions, and events. Also, you need to know what kind of targeted audience you have and select the appropriate, relevant topics.
One of the most illustrative travel brochure examples is offering the best honeymoon destinations for newly-weds, or family vacation resorts for parents and their kids.
4. Geographic Details
Mention the address, contact information, and a map to help people find you. Also, include comprehensive explanations and directions on how to get to your place.
5. Attractive Images
As photos are an essential part of a travel brochure, it's necessary to pay particular attention to selecting the right pictures that will draw a reader in. People want to understand where they are going, just looking at a brochure. That's why you need to use only high-quality professional photos that best demonstrate your product.
Important! Be careful not to mislead people by including old pictures or photos that aren't related to your offer.
Ensure that all components of your travel brochure are properly blended and make up a qualitative and amazing-looking product.
How to Make a Travel Brochure Look Amazing?
1. Choose the right photo
Photos are the heart of a travel brochure; that is why we recommend paying double attention to this component. Always ask yourself what exactly will speak to your customers and what kind of vacations they're looking for.
In the end, you will need to choose the most appropriate photo that will be appealing to your target audience.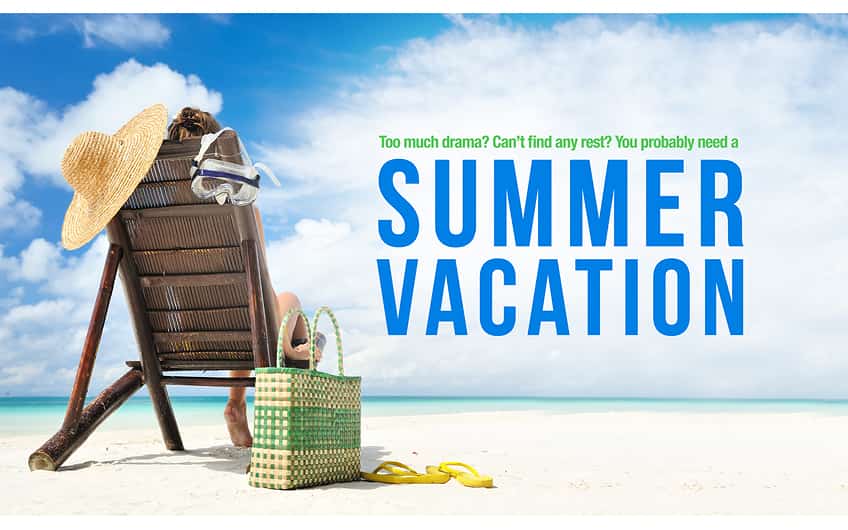 2. Use a unique color scheme
Color scheme plays an important role in the first impression of your customers, as it's the primary thing that people notice when they look at your brochure. As colors have special psychological effects, you need to choose them very carefully to exactly match the feel of your pamphlet to the product you're promoting.
3. Pay particular attention to a text
Remember that being descriptive is very important when you write a text or copy for your travel brochure. The main goal is to show the exact and clear picture using a text and make your readers imagine it while they read it.
Tip! Save time with a travel brochure template! There are a lot of professional-looking travel brochure examples that could become very helpful in case if you don't have enough time or design experience. Just pick a template that fits your product and customize it as you want.
Many people choose to make brochures on Google Docs as nowadays it is an invaluable work tool, helping create different text documents and design various templates that can be easily shared and formatted.
That's why Google Docs is the first way among all the options to make a stunning brochure. Fortunately, there are included a lot of brochure templates, so you are welcome to use one of them and customize it as you want.
How to Make a Travel Brochure on Google Docs?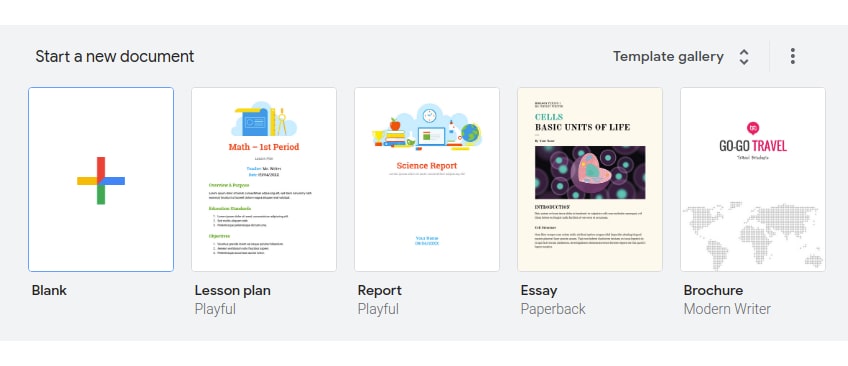 Follow these consistent steps to make the most appropriate travel brochure for your promoted product:
Go to docs.google.com, click "Template Gallery," and find the "Work Section." In case if you don't see this section, please click the three stacked lines in the upper-left corner.
Select the most appropriate template for your brochure.
Customize it as you see fit: edit and replace the text and choose the pictures.
Share your travel brochure and rename the document to make it easy to be found among your other documents.
In case if you're interested in a more traditional brochure, you're able to create and customize it on your own following the steps mentioned below:
Click "File" from the menu bar, and then – "Page Setup."
Choose the desired page orientation from the popup window.
Click "Format" and then – "Columns" to add multiple columns to your brochure.
Make some adjustments to your travel brochure template such as editing text or moving graphics to make each element look right and amazing.
By following all the instructions and pieces of advice mentioned above, you will obtain a fantastic travel brochure. But there is a separate category of customers that requires an individual approach. We are talking about kids.
How to Make a Travel Brochure for Kids?
The thing is that many travel agencies underestimate kids' influence on their parents' choices. Of course, only parents make the ultimate decision when preparing and choosing destinations for traveling with a kid. But despite the fact that children aren't responsible for vacation expenses, they often have a great impact on the way their parents spend the money.
To keep in mind Travel brochures designed for kids could become an excellent marketing tool. Nevertheless, they should be made as carefully and appropriately as they are being created for adults.
If you are ready to make a special travel brochure for kids, you're invited to consider these three useful tips for getting a fantastic pamphlet:
1. Choose a template – Fortunately, it can be easily done with the help of the Microsoft Office template archive and our beloved Internet. You're able to find a lot of different examples there and download them for free. After choosing the most appropriate template, you're welcome to customize it and make it look unique.
2. Use more attractive pictures – It's essential to remember that this travel brochure is going to be designed for kids. As children are typically short on attention and time, use more pictures and fewer words. The goal is to capture their attention using attractive images or a catchy title. When choosing photos, ensure there are children in them. This way, the bottom line of the brochure will be clear as for kids, as for their parents.
3. Add a special surprise for children inside the brochure. Let it be a game, a word search puzzle, or a small quiz, including words related to vacations. This step will let children feel they are indeed engaged in the trip and get some travel experience before the journey.
And finally, when your travel brochure is ready, it would be great to check how your children or familiar ones respond to the pamphlet. Do this small experiment to ensure that the brochure meets the purpose and is well-received by young customers.
Not all kinds of travel brochures can be created on a computer. Be ready to use your imagination and creative skills on maximum when you will be making a travel brochure for a school project.
How to Make a Travel Brochure for a School Project?
Making a travel brochure is one of the best ways for students to showcase and develop their creative, research, and writing skills. One of all the advantages of handmade booklets is that you do not need to spend a lot of time to find the required materials as they are frequently used in a household.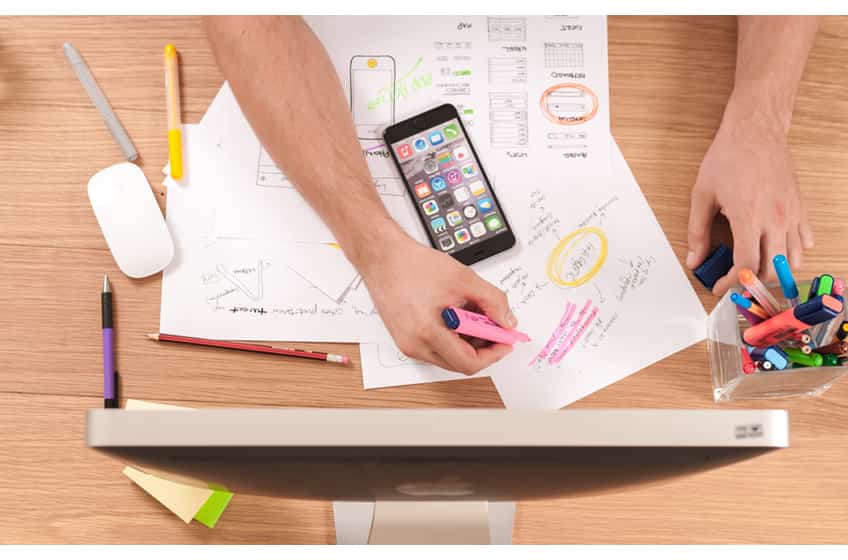 Firstly, let's see what materials do we need to make a perfect brochure:
Letter-size sheet of paper (the standard format for a brochure – 8.5 by 11 inches)
Scissors
Glue
Pencil
Black ink pen
Eraser
Ruler
Felt-tip pens/watercolor/gouache
Magazines/newspapers
When all the items from the list are prepared, you are welcome to start working on your travel brochure project following these steps:
1. Prepare a Layout – When you fold your sheet of paper twice, you'll see that it's divided into three equal parts. Mark the folds at the appropriate measurements using a pencil. You will get some panels for you to fill.
2. Do Research – It's necessary to remember that your brochure is designed with the one purpose – to sell something or to inform your customers about a product or a destination.
The point is to investigate the main attractions and reflect on the reasons for visiting these places. Look for relevant and attractive pictures in different travel magazines or newspapers to fill your panels.
3. Get to Writing – Put a simple title in large writing on your cover panel. You might add a catchphrase above the title. Include general information describing the basics of the destination inside the brochure.
The back of your pamphlet can be used for more detailed information – prices, directions, regulations, etc. Also, it could contain statistics such as average temperatures, peak travel times, or how many people visit this place each year.
4. Add Pictures – Choose the pictures that exactly fit your promoted product. Try to pick photos that are completely different. It doesn't make any sense to use similar images in a brochure, as in this case, they will not fulfill their purpose.
5. Put the Final Touches – In the beginning, mark the positions of your chosen images and text blocks on the travel brochure template. For marking the final panels, use your pencil very lightly for further erasing the marks.
Then, carefully paste your pictures in place. For writing the texts, you're able to use a black ink pen. In case if you are worried about your handwriting, you have an option to type all the necessary texts on a computer and print them as a block of text.
Final Thoughts
Do not forget that your brochure is one of the most significant parts of your business. Every man who takes up your brochure can be your potential customer. You have only some pages to show him that your product is his golden ticket. So, it's definitely shouldn't be disregarded.
Make your travel brochure carefully and accurately, and you'll immediately get an amazing result.